Book - The Birthday Project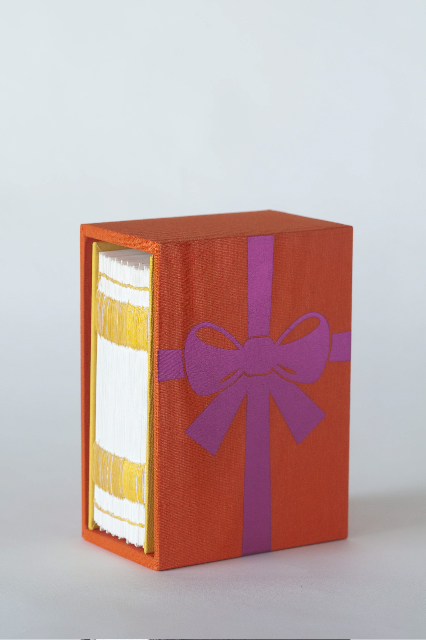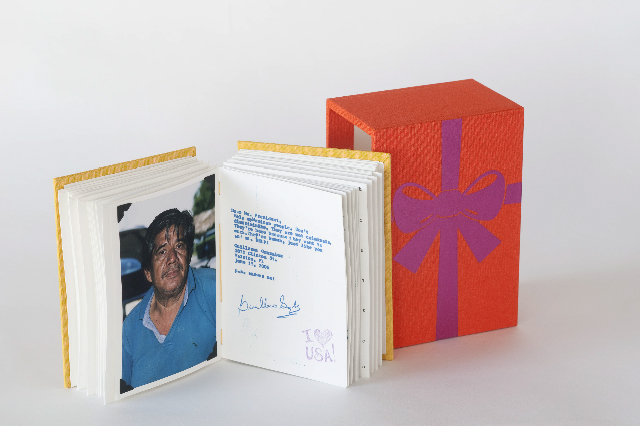 Brooklyn, New York: Fargo Books, 2008. Edition of 8.
5 x 6.75 x 3.5"; 198 pages. Includes 45 "birthday cards" and photographic portraits. 24 photos of the performances. Bound in handmade yellow linen book cloth with foil-stamped images. Slipcased in orange bookcloth with foil-stamped bow on one side and candles on the other.
Introduction: "The Birthday Project includes a selection of birthday cards sent to President Bush by people across the country in 2006. The messages were dictated to artist Sheryl Oring as part of a public performance project that began Brooklyn and included stops in seven other locations across the country: Indianapolis, Raleigh, Tampa, Houston, Des Moines, Albuquerque, and Yosemite National Park. The portraits of people who dictated cards were taken by Brooklyn-based photographer Dhanraj Emanuel."
In each of the locations Oring dressed in vintage secretary clothing. She set up a portable office at parks and flea markets in these locations and invited people to dictate birthday cards to President Bush for his 60th birthday. Oring typed participants' responses, gave the original to the interviewee in a stamped envelope addressed to the White House, and kept a duplicate for her archive and this book.
The Birthday Project was featured on NPR's Morning Edition and in numerous media outlets. A grant from the Creative Capital Foundation helped fund the project and support from the Puffin Foundation contributed to this book.