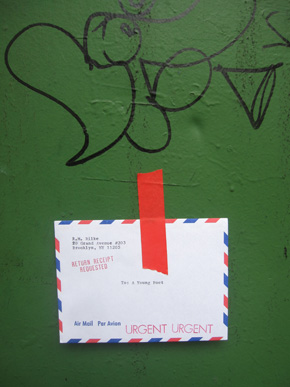 For the Art in Odd Places Festival in New York City (2010), Sheyl Oring created a work that draws on "Letters to a Young Poet" by Rainer Maria Rilke as the basis for an urban intervention based on chance.
Throughout the festival, Oring distributed envelopes addressed To: A Young Poet along 14th street from First to Tenth Avenue. These provocatively addressed missives appeared for a curious passerby to discover. Inside was a letter, an excerpt from one of Rilkes letters. Would the recipient choose to respond? An address on the front of the envelope provides an opening, but chance plays a role in determining whether a correspondence is begun.
This work examines the role of chance in creative work. And also takes us back to a time before email. The letter recently appeared on a list of the top 25 things disappearing from America. How will an audience of today respond to an object of the past?